Bigbang Argo 145S est une toupie de type Endurance du jeu Beyblade PC.
Boulon: Argo
Edit
Un symbole de croissant de lune entouré d'un cercle.
Anneau d'énergie: Argo
Edit
Roue de Fusion: Bigbang
Edit
Axe de Rotation: 14,5 (145)
Edit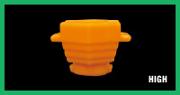 Pointe de Performance: Sharp (S)
Edit
Autres Versions:
Edit
A savoir:
Edit
La version PC est différente de la versions DS car tout simplement on ne connait pas réellement l'Axe de Rotation et la Pointe de Performance de Bigbang Argo, donc les Créateurs du jeu PC l'on fait à leur sauce (on peut noter qu'il n'était pas si loin de la version original en fin de compte).
Ad blocker interference detected!
Wikia is a free-to-use site that makes money from advertising. We have a modified experience for viewers using ad blockers

Wikia is not accessible if you've made further modifications. Remove the custom ad blocker rule(s) and the page will load as expected.