Gladiator Kaos X:D est la première toupie Zero-G à être annoncé sur le jeu PC Beyblade pour le chapitre 5.
Face de Pierre: Kaos
Edit
Roue Chromée: Kaos
Edit
Poids: 68 g
Roue de Cristal: Gladiator
Edit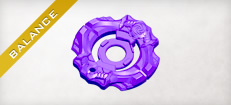 Pointe de Performance 4D: eXtreme Drive (X:D)
Edit
A savoir:
Edit
Kaos serait d'après les dires de la V-Product l'une des toupies Zero-G à apparaître dans le jeu PC qui aurait la Roue Chromée la plus lourde pour le moment (Le dessin animés et le Manga pourrait faire une Roue Chromée plus lourde).
Ad blocker interference detected!
Wikia is a free-to-use site that makes money from advertising. We have a modified experience for viewers using ad blockers

Wikia is not accessible if you've made further modifications. Remove the custom ad blocker rule(s) and the page will load as expected.