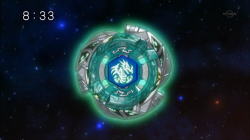 Omega Dragonis 85XF
est une toupie de type Attaque appartenant à
Ryuto
, sorti le 20 janvier 2012 au Japon.
Boulon: Dragonis
Edit
Un dragon squelletique aux allures vaillant
Anneau d'énergie: Dragonis
Edit
Incrusté de diamant,en l'hommage à Ryuto,deux élcairs pourfendeurs souligne la puissance de Dragonis.
Roue de Fusion 4D: Omega
Edit
Axe de Rotation: 8,5 (85)
Edit
85 est l'un des axes les plus petits au monde.
Pointe de Performance: Xtreme Flat (XF)
Edit
XF est la pointe plate la plus grande pour l'instant.
Autres versions
Edit
Le mot de passe est OD85XF
Ad blocker interference detected!
Wikia is a free-to-use site that makes money from advertising. We have a modified experience for viewers using ad blockers

Wikia is not accessible if you've made further modifications. Remove the custom ad blocker rule(s) and the page will load as expected.