Proteus Poseidon HA140HF
est une toupie de type Attaque dans le jeu PC beyblade.
Boulon: Poseidon
Edit
Un Boulon impreigné d'un symbole du roi des mers: Poséidon.
Anneau d'énergie: Poseidon
Edit
L'anneau Poseidon est en réalité un Aquario de couleur bleu foncé.
Roue de Fusion: Proteus
Edit
Une Roue de Fusion possédant un système 4D:
Defense Mode:
Edit
La roue prends une forme arrondie pour repousser les attaques ennemies.
Attaque Mode:
Edit
La roue prends une forme d'un cyclone qui augmente la portée des attaques en hauteur mais réduit le champ d'actions pour les attaque inférieurs.
Axe de Rotation: Hybrid Armor 14,0 (HA140)
Edit
Des morceaux de métal se sont incrusté dans cet axe à l'origine basique.Les bouts métalliques permettent de restabiliser la toupie en cas de chute.
Pointe de Performance:Hole Flat (HF)
Edit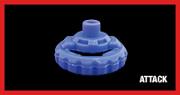 Gallerie:
Edit
A savoir:
Edit
c'est également le nom donné à la contre façon de Dark Poseidon 145WD.

Un des réalisateurs du jeu PC avoue après plusieurs mois de suspition d'ou venait le nom: "C'est mon Neveu qui avait cette toupie. Il m'a demander de la mettre dans le jeu, se que je fit".
Ad blocker interference detected!
Wikia is a free-to-use site that makes money from advertising. We have a modified experience for viewers using ad blockers

Wikia is not accessible if you've made further modifications. Remove the custom ad blocker rule(s) and the page will load as expected.